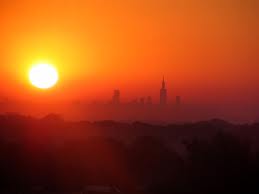 Summer officially begins this week as the summer solstice marks the longest day of the year. For Americans, summer will begin either on Thursday or Friday—depending on which time zone you live in.
That's because the timing of the summer solstice depends on when the sun reaches its farthest point north of the Equator, and that varies from year to year.
This year's summer solstice falls on Friday, June 21, at 1:04 a.m. ET, but it will start on Thursday night for places in North America west of the Central Time Zone.
This year's summer solstice also stands out because it will be followed shortly after by the largest "supermoon" of the year. In the early hours of Sunday, June 23, the moon will officially reach its full phase and will be the closest to Earth that it will be all year.