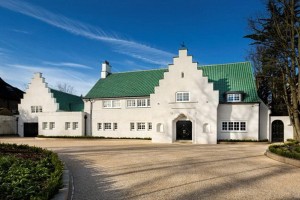 The history of Lego spans almost 100 years of the existence of a toy that grew from small wooden playthings in the early 20th century into the center of a vast market of plastic building bricks that dominated the world markets for decades. What do you think about a real house that looks like it was made of our these loved toys? Sophisticated Stratheden house in north London's exclusive Bishops Avenue is exactly that. Like Giant Lego House, this impressive property has been listed on sale for 34 million £ (52 million USD).
Built in 1925, this Cape Dutch style house, isn't impressive just with its unusual exterior, but also boasts nine bedrooms, eight bathrooms, five reception rooms and other interior luxury amenities such as wall-to-wall mirrors, steam-room, and a ballroom with polished floor the size of a normal house (2,700sq/ft). In addition, there is a 12-metre indoor swimming pool with separate gym, steam and sauna rooms, and a massage/hairdressing/spa room, as well as a champagne bar, complete with glitzy silver seating and mirrored bar.
This 'Lego house' which is set on almost one acre of land is one of the largest and one of the most expensive houses on Bishops Avenue, which is also known as Billionaires' Row. If you're looking for an elite home where your neighbors are oil barons, oligarchs and royalty from Russia, the Middle East and Africa, here is your chance.