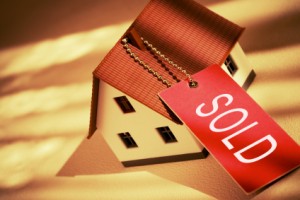 New single-family home sales rose nearly 20 percent year over year in May, according to a monthly report by the U.S. Census Bureau and the Department of Housing and Urban Development.
New-home sales were at a seasonally adjusted annual rate of 369,000 last month, up an estimated 7.6 percent from April's revised rate and 19.8 percent above the estimated sales rate in May 2011, the report said.
Last month's sales rate was the highest since April 2010, when sales hit an annual rate of 422,000. New-home sales have been rising on a year-over-year basis for eight straight months, since October 2011, according to historical data from the census bureau.
The Northeast saw the biggest yearly jump in new-home sales (127.8 percent) followed by the South (16.6 percent), the West (10.8 percent), and the Midwest (2.4 percent) The seasonally adjusted estimate of new homes for sale at the end of May was 145,000, down 14.2 percent from May 2011. That's a 4.7-month supply at the current sales pace, down from five months in April and 6.6 months in May 2011. New-home inventory hit an all-time high of 12.1 months in January 2009. Many analysts consider a six-month supply of homes an even balance of supply and demand.
The new-home sale figures for May are the latest in a recent spate of positive housing news. Last week, the census bureau reported an estimated 28.5 percent year-over-year increase in housing starts in May, to a seasonally adjusted annual rate of 708,000. Existing-home sales also continued annual gains in May, rising 9.6 percent to a seasonally adjusted annual rate of 4.55 million, according to NAR.