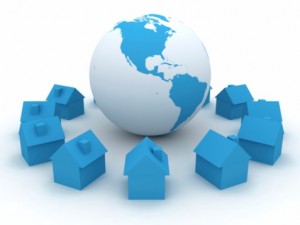 Due to low prices and the relative weakness of the dollar, international buyers continue to identify the U.S. as a desirable place to own property and make a profitable investment. According to the National Association of REALTORS®' 2012 Profile of International Home Buying Activity, total residential international sales in the U.S. for the past year ending March 2012 equaled $82.4 billion, up from $66.4 billion in 2011.  The survey asked REALTORS® to report their international business activity within the U.S. for the 12 months ending March 2012.
Foreign buyers have the advantage of working with Realtors who specialize in serving international clientele and have a truly global perspective; they know what hurdles foreign buyers face when purchasing property in the U.S., and have the expertise and knowledge that comes from working with clients from different cultures and real estate practices.  Canada, China (The People's Republic of China including Hong Kong), Mexico, India, and the United Kingdom accounted for 55 percent of all international transactions, according to the survey. Canada and China remain the fastest-growing home countries. Canada accounted for 24 percent of international sales while China accounted for 11 percent, up from nine percent in 2011. Mexico was third with eight percent of sales and India and the U.K. both accounted for six percent.
The international client is typically wealthier than the domestic buyer and is looking for a property in a specialized niche, for example, a larger property suitable for multi-generational living, or a property that establishes the individual's presence and standing in the community. Many homes purchased by foreign buyers are used as a primary residence. Vacation and rental use are also major reasons for a purchase. More than half – 66 percent – of survey respondents reported international buyers purchased detached single-family homes. About half of international buyers, 52 percent, preferred to buy in a suburban area and about a quarter, 23 percent, bought in a central city/urban area.
For more on the report click here