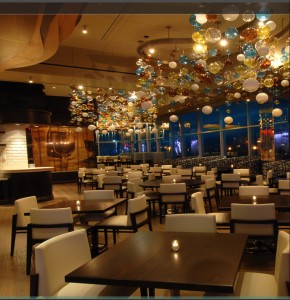 Renowned chef and  restaurateur Tom Schaudel has added a culinary gem to the route 110 corridor in Melville. While this may be off the beaten track for some, it is well worth the trip. This 10,000 square foot masterpiece speaks volume, style and showmanship. It joins Four Food Studio and Blackstone Steakhouse in an area that is popular with the corporate set. The high-profile building that houses Tom's latest creation is the new Rubie Corporate Plaza, at the busy intersection of the LIE and Route 110;  it's an arresting sight, all dark glass with a rounded front.
Once inside, the visual feast begins; walls of glass, art-deco pieces and ornate lighting add to the architectural interest of this dazzling interior. The menu is equally appealing- Tom Schaudel-style. American ecletic with Mediterranean influences, diners can choose from a wide array of dishes, including unusual pizza creations and speciality cocktails.
Visit http://www.jewelrestaurantli.com for more information. Reservations are highly recommended .