Modern cuisine has evolved –    not only on the plate, but also in the surroundings – allowing you to have your luxury experience and eat it, too. Do you crave a new spin on traditional meals? An infusion of technology or a thrilling dining space?    Today's modern cuisine has something for everyone.  Join us on a tour of some of the most exciting innovations in luxury dining today.
TRADITION WITH A TWIST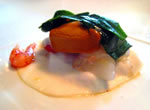 France is the historic center of fine culinary arts and remains at the forefront of world cuisine. When in Paris, immerse yourself in gastronomic diversity and unmatched culinary history. Are you a traditionalist but crave the cutting edge? If so, check out Pierre Gagnaire. The world renowned chef is at the forefront of the fusion movement; creating dishes that are an artistic blend of combinations and flavors. One favorite dish is the delectable Fricassée de Homard Bleu (blue lobster). Be sure to leave room for the Neuf Dessert de Pierre Gagnaire – a collection of nine different mouthwatering desserts.
A fine taste of France was recently featured at celebrity chef Grant Achatz's innovative new Chicago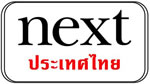 restaurant Next, where the cuisine completely changes every three months. "Paris 1906" was the first menu, followed by a "Tour of Thailand."    Paying homage to diverse culinary places and times makes Next a destination for foodies who want to experience the menu of the moment.  To be sure you don't miss each limited time menu, book your "tickets" through their website. "Tickets" you say? Yep.  They don't take reservations.
HIGH TECH EATS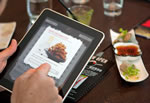 Technology isn't just for your computer or smartphone. Restaurants around the globe are now incorporating high tech tools for a more robust, informational ordering and serving process. At Mundo in Sydney, Australia, for example, diners use an iPad equipped with custom menu app to browse dishes and order. See images of each dish and even get the best wine pairing for your selection.
Asia has always been known for innovation… and in Taiwan, moJo iCuisine takes your automated meal a step further with a full tabletop interface. In the wholly modern restaurant, two diners sit at a modular table where you can browse the menu, directly order dishes, select your own virtual "tablecloth", play games, fill out opinion surveys and pay your bill. Truly 
techy!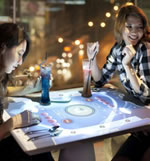 If you not only want to order, but have your meal delivered in automated fashion, stop by 'sBaggers if you're in Nuremberg, Germany. Meals are ordered via  touch screen at your table, and when ready your selections descend from a twisting "roller coaster" track from the above kitchen.  And don't stop in just for the novelty factor – 'sBaggers is an acclaimed
restaurant specializing in healthy, fresh local food.
DISTINCTIVE SPACES
More interested in the where of the experience than the how?  Take a look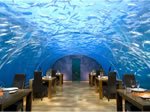 at these out-of-the-ordinary dining rooms.  Of course, a visit to the Maldives isn't complete without an extensive itinerary of activities in and around the water, but how about eating under the Indian Ocean? Ithaa Undersea Restaurant at the Conrad Maldives Rangali Island is the world's first all glass restaurant beneath the sea. No SCUBA gear required to marvel at 180-degree marine life views while dining on Maldivian-Western fusion cuisine or sipping cocktails.
If you're trusting enough to not completely see your meal, maybe the trend of dining in the dark appeals    to you.  The fad began in Europe and is quickly spreading, including to the California chain Opaque    Restaurant.  Though you lose your sense of sight, the experience is said to enhance the smell, taste and texture of your meal.

Now you are  ready to delight your own guests with innovative dining experiences at home. No… we're not suggesting dinner under the pool, but consider a course "in the dark", experimenting with fusion cuisine or a pot-luck featuring destinations "around the world". Your diners are sure to appreciate your creativity and global inspiration.