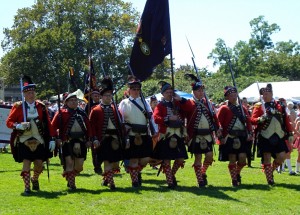 This year's festival, a perennial favorite for over 50 years, is a two-day event, filling Old Westbury Gardens with the sights and sounds of piping, colorful kilts, and numerous activities, Saturday and Sunday, Aug. 25 and 26.
With bagpipes, caber tossing and highland dancing – along with a myriad of entertainment and assorted revelry for lads and lasses of all ages, the Scottish Festival and Games is always one of the standouts of the season at Old Westbury Gardens. There's plenty of action to involve everyone, including competitions, entertainment, and Scottish treats to enjoy.
It is believed that the games were begun by the ancient highland chieftains to help them select the strongest men for their armies. Those ancient traditions continue today in the form of caber tossing, Putting the Stone, Putting the Sheaf, and arm wrestling competitions, solo piping and drumming.
For more information visit www.oldwestburygardens.org