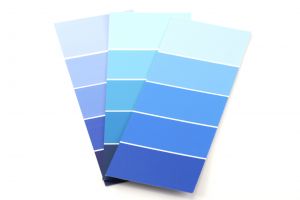 Decorating, colors, textures and designs are often a very personal decision.  But, the 'rules' of basic decorating certainly pertain whether you are buying a $678K Colonial in Roslyn Heights or a grand estate in Old Westbury.  And, certainly, employing the services of top Interior Decorators like Marilyn Rose takes the guess work out of your hands and puts it into the capable, experienced eye of a professional.  But, as common sense prevails, sharing these paint etiquette tips is worth the mention if, for anything, a little bit of knowledge.  For more amazing interiors visit, my slide shows on youtube…www.youtube.com/luxurylongisland
One of the best and fairly inexpensive tips for making a home look new again just before you sell it, is to give it a fresh coat of paint. However, it's not only the color you paint it but also the sheen that gives it a radiant glow.
Many new tract homes are painted using a flat paint. While that may look nice at first, it can be very difficult to clean and instead of wiping off walls, you may find you have to touch them up with paint more frequently.
Thankfully there are some other paint finishes that look great and are a bit more durable and easy to clean. The eggshell and low-sheen finishes put off a higher shine but they seem to last longer, stay cleaner, and are all around easier to maintain.
So, if you're getting ready to sell your home and you're looking for an inexpensive way to warm it up, give it some color, and make it look fresh to buyers, try painting. Don't be afraid of color and some shine. They can enhance your home and its value.
While you don't want to go overboard with, say, a deep rich purple, an accent wall in a deep color that is coordinated with your decor can be very appealing. You are trying to appeal to the masses; so do keep that in mind. But personal taste can be quite different. You want paint colors that show off the architecture and draw people into a home–and that doesn't mean you have to have boring or neutral beige on all of your walls.
Choose colors that reflect the style of the home. A country house might have red accents. An Italian-style home might make use of rust or a deep green for an accent wall that is beautifully matched with rugs and throw pillows.
Once, you have a color in mind then it's important to choose the right finish for the paint. The paint color might appear slightly different depending on the type of sheen you choose.
Most trim, baseboards, and doors are done in a high-gloss paint. They standout and look bright and cheerful and are fairly easy to clean the scuff marks off as the house ages.
The walls have a few more choices. You can go with flat paint; you'll have no shine. You also will have a more difficult time cleaning off the handprints and dirt that gets on the walls. This type of paint simply doesn't clean easily.
Eggshell is a popular sheen that can look somewhat flat on the walls when looking straight at them. However, there's a bit of a sheen from an angle which also makes the color richer and the painted walls simpler to clean.
Paint companies have various names they use for paint finishes. What one company calls flat another may refer to as matte. So be sure to ask for samples and take them home and apply a little on the wall. Sometimes the samples will only come in a matte finish. You can at least get an idea of how the color will look. When you increase the sheen, the reflection of light bouncing off the walls increases.
Here are a few suggestions. Flat or matte gets dirty easily and does not offer any shine. This paint finish is good for an area where there isn't much foot traffic. An area where the walls won't be touched much.
Eggshell is excellent for bedrooms. It makes the paint look vibrant. Some complain that it can have a plastic look. Personally, I really like it and think that it makes rooms come to life. If the room is small and you paint it a darker color with white trim, the room can have the illusion of looking bigger. One paint company told me that people always think a small room must be painted with a light "but it's the exact opposite".
Low-sheen paint also has a shine and, depending on the company, the amount of sheen can vary quite a bit. So be sure to test the colors in all lighting. With some paint, the sheen can make the reflection from a lamp look odd.
High gloss paint is typically reserved for walls and trim because of how reflective it is. Sometimes the walls and the trim will be painted the same color but with different finishes creating a special effect.
Letting your house shine with enriching and warming color and paint finishes can increase the value of your home and bring you more money at the time of sale.
by Phoebe Chongchua
Published: December 3, 2010