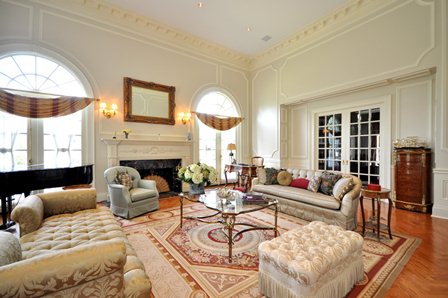 Staging is a way for your home to stand out from the competition. It's a way for a buyer to see the true potential of your home. Many real estate agents work with professional stagers. But if you don't have the money to spend for professional help, then consider these five tips to stage your own home.
1. Curb Appeal: A first impression happens only once! Prune overgrown plants and remove unnecessary clutter from your yard. For a finishing touch, consider painting your front door an attention grabbing color, like dark blue, red, or green.
2. Remove Clutter: Knickknacks, doodads, and bric-a-brac must go. When you put your home on the market, a showing could be scheduled at any point. So, for now, take a box and go from room to room collecting the extra "stuff." These baubles distract homeowners from seeing the actual room and space.
3. Edit: It's not just clutter that needs removed from counters and shelves. Editing is a way of making your rooms look bigger. In staging you need only have the bare essentials of furniture. Remove heavy pieces that make rooms look smaller. If you can, put these items into storage. As a very last resort, you can put them in the garage and cover them with a tarp.
4. Main Functions: This means that a dining room should be staged as a dining room, not a sewing room or office. A patio is a place to relax with nature, not a catch-all for outdoor items, toys, and grills.
5. Ambiance: You are wanting to create an atmosphere that is welcoming and makes the buyer feel at home, something of paramount importance in staging. This means the home should be smell clean, be light and airy, and be a comfortable temperature. To accomplish these tasks, you can bake cookies just prior to a showing to fill the air with yummy goodness. If you are a smoker or have pets you may need to take more drastic measures, such as repainting walls or cleaning carpets and furniture. To bring your home to light, replace old and burnt out light bulbs, and have heavy curtains open or removed. If you are showing during the winter months, be sure to leave the heater set to a comfortable temperature. The same goes for the A/C during the heat of summer.
Use these simple tips to get your home ship shape for your sale!
Published: October 28, 2010
by Carla Hill