2 Watersedge Court Lattingtown New York –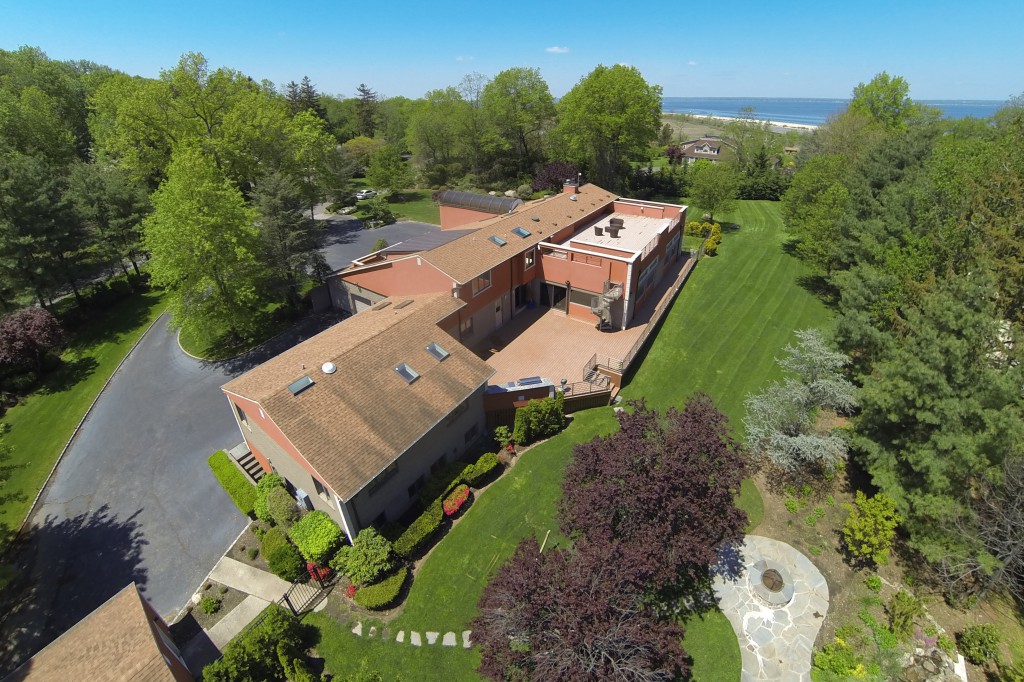 Year-round resort-style living can be yours in this spectacular Lattingtown mini-estate standing serenely on 2 exquisitely landscaped acres on a cul-de-sac with views of the glistening waters of Long Island Sound twinkling through the trees.  Having undergone a million-dollar renovation in 2011, this stunning Lattingtown 7-bedroom, 6.55 ultra-modern is like new, complete with the latest creature comforts including heated granite floors, security surveillance, generator, Hydron open loop geothermal heating and cooling system, and a fabulous heated climate controlled indoor pool. Offering gorgeous views of land and water, 3 expansive decks including one off the second floor, one off the main floor with outdoor kitchen and spiral stairs to the roof-top deck.  Click here for property details.
Sweeping emerald lawns are accented by beautiful plantings and an inviting flagstone area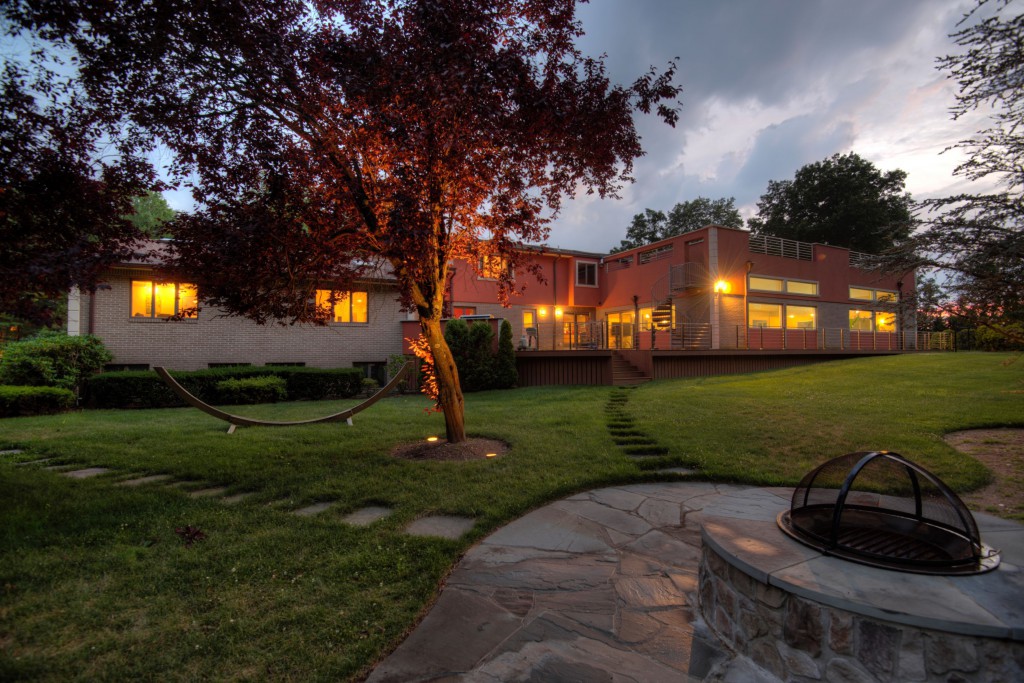 with fire-pit and waterfall. 2 Watersedge Court Lattingtown is located on a cul-de-sac of equally beautiful properties; the home is approached by a winding Belgian-block-lined driveway entering past lighted brick stanchions to a large courtyard enfolded by panoply of ever-changing flowering shrubs.  The drive continues around to a 6-car, tandem detached garage.  Located on a cul-de-sac in Lattingtown less than ¼ mile from Stehli Beach and Ransom Beach, this exceptional residence provides easy access to golf, boating, Bayville's seaside restaurants and amusements, plus charming village shopping and commmuter rail road in nearby Locust Valley.  It is approximately a 45 minute commute from Lattingtown to Manhattan.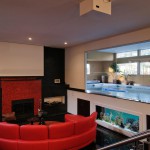 Enter through stainless steel and glass entry doors of this Lattingtown home and become enthralled by the sky lit vaulted ceilings and gleaming granite floors flowing throughout most of the main level, from the dramatic dining and living rooms to the striking gourmet kitchen boasting sleek granite countertops and custom wood cabinetry, red glass tile accents, high-end appliances and a breakfast area overlooking the sunken family room's large projection television above a ruby glass tile fireplace. Here, a huge picture window above a built-in aquarium views the inviting indoor pool. Sliders in the kitchen and natatorium,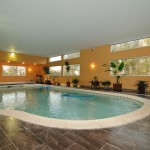 which includes a wet-bar and lounge, offer easy access to each indoor living space and the main rooftop deck.  2 Watersedge Court Lattingtown is ideal for entertaining; the finished lower level features a granite kitchen, wet-bar, bedroom, bath and access to the grounds. The remainder of the sprawling first floor includes a den, cabana bath, sauna, 4 attractive bedrooms, 2 full baths and laundry room.
Stairs from the entrance foyer ascend in a circular tower topped by a barrel skylight, with views of the Lattingtown skies, and continues along the white granite-floored corridor that overlook the main level and leads to the palatial and stunning master suite.  Here ample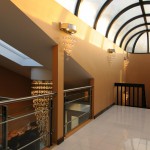 space combines with a minimalist design to create a sublime retreat with blond wide-plank wood floors, sky lit vaulted ceiling, sitting room, custom-build walk-in closets and a state-of-the-art black and white granite and glass-tile master bath with twin vanity, large frameless-glass shower, sky-lit vaulted ceiling and sunken infinity spa. A second bedroom with bath en suite and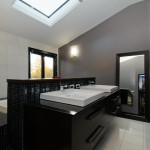 private deck is perfect for guests. The roof top deck offering water views of Lattingtown and Long Island Sound is also accessible from this level. Come experience the stunning beautify and sheer magic of this one-of-a-kind entertainer's paradise at 2 Watersedge Court, Lattingtown.
For an insider's look at 2 Watersedge Court Lattingtown, click here to watch the December 26 segment of CBS 2 Living Large with Emily Smith and Maria Babaev.
Geothermal – Hydron Geothermal System An investment in a geothermal system provides a climate controlled environment to heat your home in the winter and cool it in the summer at a constant level.   This is a commitment to using the earth's natural resources to maintain a temperature that is amenable to you year round.  A geothermal system offers additional benefits including a pledge to improving the environment, reduce home maintenance expenses, and saving on utility bills.
 Why geothermal? 
Safe and Secure – no fossil fuel exhaust means no chimney or flue is required. There is no opportunity for explosions or carbon monoxide poisoning, which makes a geothermal system the safest choice for your family.
Money In Your Pocket – Geothermal systems are recognized by the EPA as the most energy efficient heating and cooling systems available today. Savings are produced by tapping into the free energy naturally stored in the earth.
Earth Friendly – Geothermal systems actually have a positive impact on our environment since they burn no fossil fuels and use very little electricity. This enhances our efforts to control pollution, green house emissions, and other issues that impact our everyday environment.
Noise Free Environment – no noisy outdoor air conditioner is required, so air conditioning no longer has to detract from your outdoor activities. An additional bonus: there is no unsightly outdoor unit to detract from your landscaping.
Less Maintenance and Service – a single system heats, cools, and produces hot water. Since this unit is located inside the home, it is not exposed to harsh outdoor conditions which could lead to mechanical issues.
Comfort, Comfort, Comfort – because of the way geothermal systems cycle, they do a better job of air purification and dehumidification than conventional systems. They also provide more consistent air temperatures throughout the house, eliminating hot and/or cold spots. Additionally, zoning can allow you to maintain a different temperature in different areas of your home.
Free Hot Water – a geothermal system has the capability of capturing reclaimed heat during the heating and cooling modes thus reducing a typical 4-person household's water heating cost by 50% to 60%!
Longer Life Expectancy – you can expect your geothermal system to provide you with, on average, 20 to 24 years of reliable total comfort and savings as compared to a 13 to 15 year life expectancy of conventional systems.
Flexibility – there is no job too big or too small for a geothermal system. Our versatile equipment can be installed in existing homes, new construction homes, small shopping centers, and even the largest commercial structures.
2 Watersedge Court Lattingtown is equipped with a highly efficient, corrosion free, minimal maintenance Hydron Stainless Steel Geothermal HVAC System with an outstanding dehumidification system in the natatorium.  The self-regulated system works whisper-quiet 24/7 to provide a comfortable environment during even the most humid or frigid weather conditions in the Northeast.
To view additional properties for sale in Lattingtown or the surrounding towns, click here.
Locale for 2 Watersedge Court, Lattingtown Located in Nassau County, within the Town of Oyster Bay, perched on the northern most shores of the Long Island Sound, sits the tiny incorporated Village of Lattingtown.  Occupying just under 4 square miles, this quaint North Shore enclave is bordered by the equally lovely Bayville, Mattinecock and more urban Glen Cove townships.  The village got its name from its founder, Richard Latting, who in 1660 bought the land from the Matinecocks.
Today, Lattingtown is a charming and spacious place to live with beautiful beaches, shopping and dining establishments conveniently located throughout the surrounding hamlets. For art and leisure, there are many cultural sites to visit including the Bailey Arboretum, Oyster Bay Rail Road Museum and the Planting Fields Arboretum.  To find out more about Lattingtown, click on the neighborhood guides.
For those individuals who commute into Manhattan, there is the Locust Valley Train Station where you can almost always get a parking spot – a rare benefit on Long Island.
There is a tranquility and beauty in Lattingtown.  The amenities including great public and private schools at Locust Valley Central School District, golf and equestrian centers, boutiques and quaint shops make living here a wonderful experience especially during the summer months.  It's Hamptons-esque without the travel especially along West Shore Road in Bayville.
Click here for more property information on 2 Watersedge Court Lattingtown including the Aerial Video and Property Video.
About Maria Babaev Maria Babaev is the elite broker representing luxury properties on the North Shore of Long Island. She brings a refreshing perspective to the business of residential real estate. Her many years working on Wall Street, along with the impressive network of clients she has cultivated, both locally and abroad, has enabled Maria to represent unique Gold Coast estates and bring buyers and sellers of luxury properties together.  For more information about Maria Babaev and LuxuryLongIsland.com, click here.
Homes For Sale in Lattingtown  Looking for more homes for sale in Lattingtown, click here.
Homes Under Contract and Homes Sold For more information on recent residential real estate home transactions, click here to see the lastest homes under contract and the most recent luxury home sales to date.