This year add some sparkle to your holiday season with my favorite finds for the most fabulous gifts bedecked in brilliant crystal, radiant gold, jewels and more. And while many of the items in this year's Luxury Gift Guide represent true indulgence, really, what better time of year is there to indulge?

For those who value time, this shimmering luxury timepiece embodies the powerful relationship between Bentley and Breitling with classic elegance. The expertise of this Swiss-made Breitling for Bentley Desk Clock is encased within Bentley's finest burr walnut and signature Bentley knurling. 950 EUR;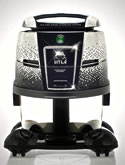 When one thinks of vacuuming the house, glamour isn't a word that usually comes to mind. It would definitely be anyone's first thought, however, if vacuuming involved the HYLA GST. The over-the-top appliance is encrusted with 32,000 genuine Swarovski Elements. In addition to an unmatched look and shine while you sweep, the HYLA GST can also be used as an air filter to luxuriously remove pollutants from the home. Suggested retail price is $21,900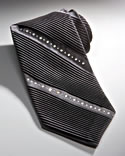 One conventional gift for males each holiday season is the necktie. Add some pizazz to the tradition with a Stefano Ricci Pleated crystal tie. Handmade on an antique loom, the quality silk tie has a defined pattern, made even bolder with rows of crystal-adorned stripes. $550; BergdorfGoodman.com

If you're looking for a unique treat for the foodie, a shaker of edible gold leaf from Gold Gourmet will be the talk of the dinner table. Celebrate with a sprinkle of gold in your champagne or add some shine to carefully crafted desserts. 29,95 EUR.

Attain the elegance of Swarovski more easily with their Crystalline Tea Light. With approximately 1,600 crystals set atop a clear base, the large tea light provides a warm luxurious glow in a small, affordable package. $150, smaller version without base $75; Swarovski.com