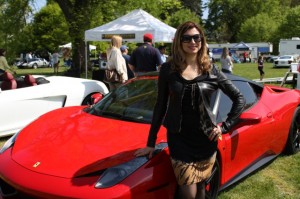 I would like to thank all my dear friends, family and clients for making this event a huge success!
Ferrari-Maserati of Long Island, Exotics Rally & Detailing Dynamics presented the 3rd Annual Exotics Exposé to benefit the Steven & Alexandra Cohen Children's Medical Center of NY at Old Westbury Gardens on Sunday May 6th.
It turned out to be a wonderful day- the sun was shining over a beautiful lawn strewn with a stunning collection of the finest, most exotic cars. Visitors came from far and wide to enjoy a fun-filled day of games, prizes, and entertainment with all proceeds going to a great charity. I was very excited to give out an award for my favorite red Ferrari!
Thanks to all for visiting my booth and supporting me on this wonderful day! It was a great opportunity to catch up with old friends and make acquaintance with new ones. I look forward to more events in the near future!