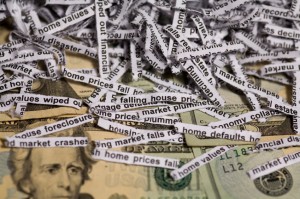 Home values are again beginning to fall. What has caused this renewed downward pressure on prices? It can be directly tied to the number of distressed properties in the region which have shredded values in some  marketplaces. Foreclosures and short sales impact prices in two major ways.
They are discounted competition to the house next door
When a home buyer decides to purchase, price is a major component in the equation. Every buyer wants to make sure they are getting an excellent deal especially after what has taking place over the last five years. According to RealtyTrac, foreclosures, on average, sell for a 41% discount and short sales sell for a 19% discount.
These distressed properties might not be in the same physical condition as the non-distressed properties. However, at sizable discounts, many purchasers are more than willing to do the necessary repairs. Every buyer who buys a distressed property is one less eligible buyer for the other homes. Less demand in a market with an oversupply of houses for sale means lower prices.
Distressed properties could impact your buyer's appraisal
We had the honor to speak at the Leading Real Estate Companies of the World Conference and the RELO Direct Corporate Forum last week in Las Vegas. Chip Wagner of A. L. Wagner Appraisal Group, Inc. also spoke. He is a third generation appraiser and an industry icon who will be inducted into Worldwide ERC's prestigious "Hall of Leaders" in May in recognition of his years of hard work in the field. 
 At the conference, Mr. Wagner explained:  
"Recently appraisers have been accused of prolonging the nation's real estate downturn by developing value opinions that are below proposed sales prices. Specifically, we have been accused for using distressed properties among the comparable sales used in the valuation process.
If a specific market area has a low amount of distressed listings and comparable sales, it is likely there is little impact on property values, and we may be seeing appreciation taking place.  A 'low amount' would be under 10% to 15%.  In market areas where there is a high amount of distressed market competition, typically greater than 1/3 of the market, this distressed competition has to be analyzed as this is the new 'norm' for that market area.  Buyers active in that area are looking at all of the competing properties and making their purchase offers and buying decisions based on all of the information available to them.  Sometimes the appraisers are using that data, and sometimes they are not.  The important thing is that the appraiser properly research and analyze each property, understanding the differences in seller motivations and the condition between the properties."
These properties sell at substantial discounts. When they are used as comparable sales, they could dramatically impact values.
Bottom Line
The number of distressed properties coming to market is increasing and will create downward pressure on house prices throughout 2011.
Published by KCM