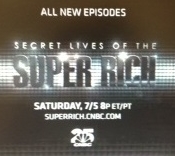 Upper Brookville Mansion Secrets Revealed!  
Join Maria Babaev for a new season of CNBC "Secret Lives of the Super Rich".  New episodes airing Saturday, July 5th at 8:00 PM ET/PT. Note the CNBC channel differs based on your carrier.  Join Maria and the show's host, Robert Frank, as they take you through some of the finer points of this property.
Click here to view a sneak peek from the upcoming segment.
Click to read Newsday Article
Photos from the show!