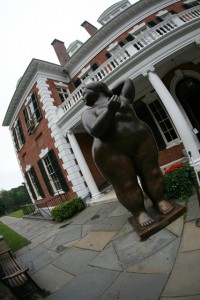 Nassau County Museum of Art Plans 21st-Century Art Space for Children
85-Mile Ride from Greenport to Roslyn Harbor Museum Launches Grass Roots Campaign for New Art Space for Children 
The Nassau County Museum of Art is embarking on a major campaign to create a new Art Space for Children and is inviting all of its members and friends to join in this very exciting venture.
The existing building on the museum campus will be expanded and transformed to become an entirely new facility designed by the internationally-renowned New York firm, Lee H. Skolnick Architecture + Design Partnership. Filled with natural light, vibrant color and interactive technologies, the future Art Space for Children will be a unique showcase inspiring children's creativity both through viewing and making art. Planned for children ages 3 to 12, the new Art Space for Children will offer young people space for contemplative reflection, adventurous imagining, and visual thinking.
On October 2, Board Member L. Ronald S. Gray, the chairman of the Art Space for Children committee, will bicycle from Greenport to Roslyn Harbor to raise funds and build awareness across Long Island of this initiative for children and families. His tour, called Cycling for Kids & Art, finishes at 3:30 p.m. at the future Art Space where children and their families will welcome Ron's arrival and also celebrate the opening of Beastly Feasts! A Mischievous Menagerie in Rhyme, a new exhibition based on the illustrated children's book by Robert Forbes.
For more information visit the Nassau County Museum of Art's website.